Keypirinha¶
A fast launcher for keyboard ninjas on Windows.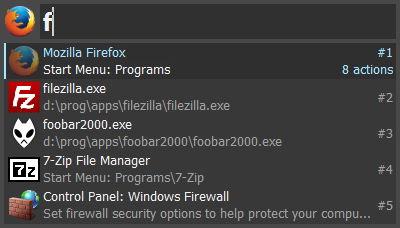 Need Help?

You like Keypirinha?
What is Keypirinha¶
Keypirinha is a fast launcher for keyboard ninjas on Windows.
Features:
Quickly find and launch plethora of items like applications, files, bookmarks, URLs, sessions (PuTTY, WinSCP, FileZilla), registry keys, ...
Launch a search on any configured website or online dictionary
Evaluate a mathematical expression
Convert numbers
Launch a pasted URL directly (

http

,

mailto

,

skype

, ...)
Switch to a running application searched by name
Associate a keyword to a specific item
An embedded Python3 API to extend Keypirinha's features
Properties:
Lightning fast
Fairly small memory footprint
Battery friendly
A community full of enthusiasts
Freeware, no nag screen, no time limit, no ads
You can think of Keypirinha as an alternative to Launchy and a cousin of Alfred.
See the First steps chapter for more information.
Current Developments¶
Here are the headlines of Keypirinha's current developments.
Open Packages Platform: Keypirinha is glad to welcome @psistorm as a project member! He is currently working on developing the online side of the project in order to make it more community-oriented. That includes Keypirinha's website and more importantly a packages management platform to allow users to easily search, list, install, update and uninstall official and third-party packages. Third-party developers will be able to share their package with the community by registering their GitHub or Bitbucket repository.
Catalog sub-system: Several features regarding the Catalog sub-system have been requested by users and have been hanging in the issue tracker for quite a while now (issues #22, #52 and #60). Altogether, they imply deep changes under the hood and require some time to be implemented. It is slowly making its way.
About this Documentation¶
This documentation is a work in progress and the effort of a non-native english speaker. Comments and contributions are appreciated. It is written in reST and generated using the Sphinx tools suite.